Pakistan Visit of Professor Dr. Rabbani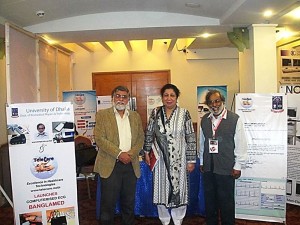 Recently Dr. Rabbani gave an invited talk at the 23rd Annual Conference of the Pakistan Cardiac Society, CARDIOCON 2014, Karachi, to present their work on Telemedicine with special focus on Cardiology. The interaction was initiated by Mr. Abdullah Butt, a leading consultant for Tele-health and e-learning in Pakistan and Middle East, and also the founder CEO of Telecare Ltd., Pakistan. Telecare displayed the 'Banglamed ECG' at an exhibition of products at Cardiocon 2014, and plans to distribute this in Pakistan and the Middle East.
Recently, a project on Telemedicine under the leadership of Professor Rabbani, in which the ECG equipment is also an integral part, has received funding from the 'Service Innovation Fund' of 'Access to Information' programme of the Government of Bangladesh. This project is intended to perform a field trial of the Telemedicine system developed by the team in order to establish it as a primary healthcare provider in the rural areas of Bangladesh.
Photographs show the ECG device, its use in getting an ECG performed on a subject, sample tracings on the computer screen and the display stall of Telecare Ltd., at CARDIOCON 2014, Karachi. In the last photograph, from left to right are Mr. Abdullah Butt, Dr. KhalidaSoomro, Convener of CARDIOCON and Professor Rabbani.