Dr. M Jahangir Alam becomes the first recipient of PhD degree from this department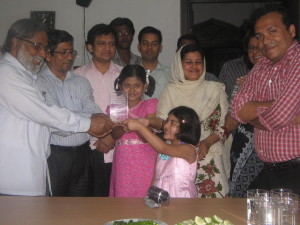 M Jahangir Alam got his PhD which is also the first ever PhD from our department. The Dhaka University Academic Council approved this award on its meeting on 16 February, 2013. Dr. Alam's thesis was on 'Calculation Accuracy and Quality Assurance of Computer Aided Radiation therapy planning'.Professor KSiddique-e Rabbani of our department andDr. G A Zakaria of Cologne University, Germany were his Supervisors. Prof M Aminul Islam of Rajshahi University was the Convener of the examination Committee while Prof Barry Allen from Australia, who is an internationally known figure and past Presidents of IOMP (International Organisation of Medical Physics), AFOMP, IUPESM and past Chair of HTTG, was a member of the examination committee.
We heartily congratulate Jahangir for his great achievement and wish him the best for upcoming future.